BOOK REVIEW – ORIGIN BY DAN BROWN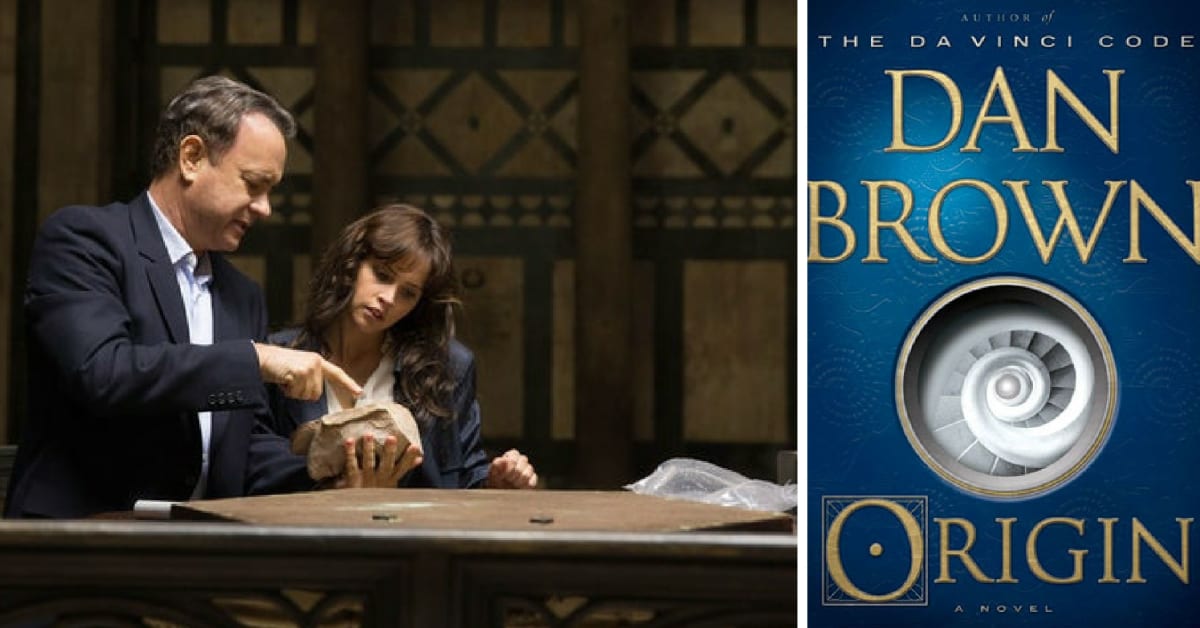 Robert Langdon, Harvard professor of symbology and religious iconology, arrives at the ultramodern Guggenheim Museum in Bilbao to attend a major announcement—the unveiling of a discovery that "will change the face of science forever." The evening's host is Edmond Kirsch, a forty-year-old billionaire and futurist whose dazzling high-tech inventions and audacious predictions have made him a renowned global figure. Kirsch, who was one of Langdon's first students at Harvard two decades earlier, is about to reveal an astonishing breakthrough . . . one that will answer two of the fundamental questions of human existence. As the event begins, Langdon and several hundred guests find themselves captivated by an utterly original presentation, which Langdon realizes will be far more controversial than he ever imagined. But the meticulously orchestrated evening suddenly erupts into chaos, and Kirsch's precious discovery teeters on the brink of being lost forever. Reeling and facing an imminent threat, Langdon is forced into a desperate bid to escape Bilbao. With him is Ambra Vidal, the elegant museum director who worked with Kirsch to stage the provocative event. Together they flee to Barcelona on a perilous quest to locate a cryptic password that will unlock Kirsch's secret. Navigating the dark corridors of hidden history and extreme religion, Langdon and Vidal must evade a tormented enemy whose all-knowing power seems to emanate from Spain's Royal Palace itself . . . and who will stop at nothing to silence Edmond Kirsch. On a trail marked by modern art and enigmatic symbols, Langdon and Vidal uncover clues that ultimately bring them faceto-face with Kirsch's shocking discovery . . . and the breathtaking truth that has long eluded us.
I've to admit that decoding the mind palace of Dan Brown is like solving a 12x12 cubic puzzle. It's like you know where the maze is leading to but you're unable to escape no matter how hard you try to figure your way out. Dan Brown is widely recognised as one of the best writers in the mystery/thriller genre. For me, he's the next Christopher Nolan in this storytelling business. The writing style is highly prolific and engaging. All his adventures take place in different regions of the world but there's a historical significance connected to all of them which pulls the readers into the atmosphere of a new world which is yet to be explored. It's like we have embarked ourselves on a journey where stories within stories lie ahead and waiting to be discovered. It's been an honour and a privilege for readers like me to have such a mind-baffling experiences through his bestsellers. Robert Langdon is one of my most favourite protagonists ever. Dan Brown has gifted us so many masterpieces like Angels and Demons, The Da Vinci Code and Inferno. I haven't read The Lost Symbol yet which I look forward to the most. Deception Point and Digital Fortress haven't intrigued me to that astronomical level. I'll give them a try at some point in future but no such plans as of now.
As soon as Origin was announced, I was extremely hyped and thrilled with the new release. When it arrived, the new arrival broke all records in terms of sales. So many million copies were sold in a week or something like that. I got a chance to read Origin after a month as I was caught up with something so it took me a while. Now after I finished the book, few questions popped up my mind – Was it worth the hype? Can this be declared a masterpiece like its predecessors? The questions are different with a common answer – NO.
No wonder why everybody keeps saying that expect the disappointment and you'll never be disappointed. But it's in the blood that runs through our veins that urges the human nature to hype things up with a bunch of overloaded expectations. Well let's embrace the harshest reality of life – expectations always hurt in every field. That doesn't mean Origin is bad. It's neither bad nor disappointing.
It somehow lags behind its predecessors in terms of narration. I, as a reader, failed to establish a connection with it. It's a stepdown and that's okay. If at some particular phase of my life, I decide to revisit the stories of Dan Brown, unfortunately Origin won't make it. It's damn good at many levels but in a nutshell it's tedious and slowpaced. That engaging level is way below the acceptance rate. The plot is fascinating and so is the concept but what it lacks is the consistency. The twists and turns are quite good. As a Dan Brown fan, I'll recommend you to pick this novel at the end. There's no official sequential order but if a newbie starts off with Origin, he/she won't be mesmerized with it and might never pick a Dan Brown novel ever. Here's my final verdict – Though a stepdown from the previous entries, Origin is a jaw-dropping thriller that desperately attempts to push the boundaries of brilliance when it comes to unexpected revelations and over-the- edge progression in storytelling but fails to catch up with the excessive hype surrounding it.
Nogozo is a single dedicated platform to buy, rent and sell new as well as used books. Nogozo is an e-commerce platform which allows users to buy, rent and sell new as well as used books (Academic + Non-Academic) with same day delivery. Nogozo is working with a notion of "MORE ACCESSIBLE & MORE AFFORDABLE EDUCATION FOR ALL". Nogozo sells both new & used books across PAN India. Currently, Nogozo is providing renting/re-selling service in Agra.
Contact Nogozo on WhatsApp (+91 8979497958) & send your book list with images.