Who is Wimpy Kid ? Brief of his crazy Diaries and Books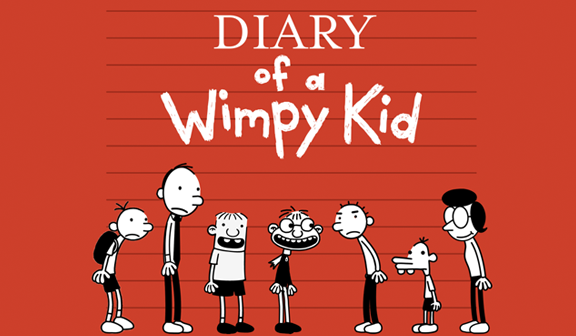 Diary of a Wimpy Kid is an American fiction book series and media franchise created by author and cartoonist Jeff Kinney. The series follows Greg Heffley, a middle-schooler who illustrates his daily life in a diary.
Diary of a Wimpy Kid first appeared on FunBrain in 2004, where it was read 20 million times.
The book was adapted into a live-action feature film, which was released on March 19, 2010, and an animated film adaptation was released on Disney+ on December 3, 2021
List of First 5 DOAWK in chronological Order is as follows -
1. Diary of a Wimpy Kid


Greg Heffley, the middle school protagonist, clarifies that "this is a JOURNAL, not a diary." He then explains that he only agreed to write in one for when he is "rich and famous," and "for now, I'm stuck in middle school with a bunch of morons." Greg then discusses the old, smelly, moldy Cheese at his school. It started when someone left a piece of cheese on the blacktop, and it got moldy. If someone touches it, they have the "Cheese Touch," which they are stuck with until they pass it on by touching someone else. However, the last victim of the Cheese Touch moved away, and Greg hopes nobody starts it up again. He also talks about his best friend, Rowley Jefferson. Although Greg wants to be famous and explains popularity to Rowley, "it just goes in one ear and out the other with him."
Greg then introduces his family. He has a teenage brother, Rodrick, who likes to pick on him, and a little brother, a toddler named Manny, who gets everything he wants and gets away with everything he does wrong. Greg's father does not encourage his way of life — playing video games all day — rather than going outside and playing sports.

Buy Wimpy Kid Books at best prices
2. Diary of a Wimpy Kid: Rodrick Rules


At the start of the book, Greg Heffley explains how bad his summer vacation was in which after being signed up with the swim team without his consent, he had to deal with practising at 7:00 AM, being the worst swimmer on the team, being forced to wear his brother Rodrick's skimpy hand-me-down racing speedo to save money while everyone else wears baggy swim trunks and his older brother Rodrick annoying him about a secret that Greg is trying to keep. After Rodrick puts him in the back of his van and finds every speed bump in town because their mother Susan wants Rodrick to pick him up after swim practice and school, he drops Greg off at school but Greg finds out he still has the Cheese Touch from last year. Luckily for him, he gets away with passing it on to a new student named Jeremy Pindle.

Buy Wimpy Kid Books at best prices
3.Diary of a Wimpy Kid: The Last Straw


As the book begins, it is New Year's Day and Greg is talking about his family's New Year's resolutions. Greg's resolution is to stop other people from breaking their resolutions. He starts a "three strikes and you're out" system; if anyone breaks their resolution, they will get a strike, but before Greg can decide what "you're out" means, Rodrick, Greg's older brother, gets all three strikes. Greg decides to bag his resolution too, as everyone is breaking their resolutions and it's very hard to keep on correcting people. Life becomes more difficult for Greg and his best friend Rowley when their school bus route is "rezoned" to the Whirley Street neighbourhood, meaning they have to walk to and from school.

Buy Wimpy Kid Books at best prices
4. Diary of a Wimpy Kid: Dog Days


The book starts with Greg Heffley describing how he is an "indoor person," and how he intends to spend his summer vacation playing video games, but his mother, Susan, wants him to go outdoors more often. Their budget is tight, so Greg and his family are not able to go to the beach that summer. However, Susan still intends to have the "best summer ever."
Greg invites his best friend Rowley for a sleepover, where they watch a horror movie about a muddy hand who strangles people. Greg is at first indifferent, but he is frightened when at the end of the movie he finds the muddy hand coming at the screen as it fades to black. He describes the whole movie to Rowley from the start to end because Rowley got too scared during the movie and covered his ears and eyes. Rowley gets even more scared than Greg. After Greg spends $83 on Rowley's dad's account at the local country club, they later start a lawn mowing service to earn money. The job ends badly as neither of them have operated a lawn mower before and Rowley refuses to do all the work for Greg. Due to this, Greg decides not to invite Rowley to his birthday party for not helping him out, which leads to them falling out.
Buy Wimpy Kid Books at best prices
5. Diary of a Wimpy Kid: The Ugly Truth


This story begins with Greg explaining that since he and his best friend Rowley have had a big fight in the previous book, their friendship has been "history".
Susan Heffley, Greg's mother, announces that she will be going back to college for a few months in order to stimulate her mind. As a result, the Heffley men must take care of themselves, and most stability falls apart. Food is often ruined, and since Susan usually does the chores around the house, Greg is short of clean clothes to wear.
With Susan in college, Greg's father, Frank, gives Greg the responsibility of waking himself up in the morning. Greg tries a wind-up alarm clock, which he believes will be more effective than his last one, and puts it under his bed so that he has to get out of bed to find it. But with the clock ticking loudly under the bed, he feels like he is on top of a bomb and is therefore unable to sleep. As a result, Greg accidentally activates the school fire alarm in his sleep-deprived state, causing the entire school to evacuate. The fire department is called, but no fire is found. Everyone goes back in, and the principal tells them that whoever pulled the alarm will be suspended and should turn themselves in. Greg decides to keep a low profile about the culprit and does not get caught, but a rumor goes around that the fire alarm squirts an invisible liquid when the handle is pulled, which the teachers could detect with a special wand. Many dismiss this rumor as a trick for the teachers to see who goes to wash their hands first. As a result, no one goes to wash their hands, and since it is the middle of flu season, the school closes early. Since Susan is studying, Greg has to call Frank from work to pick him up, which Frank is not happy about.
Buy Wimpy Kid Books at best prices
Next 5 Wimpy Kid Books Summary in Part 2 Click Here
---------------------------------------
For More Parts Keep Reading NOGOZO Blogs